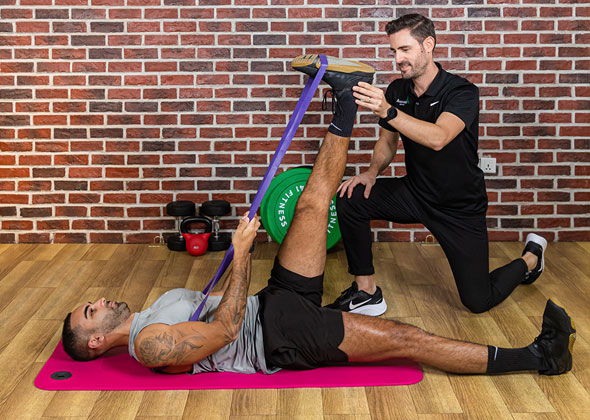 Sports Injury Physiotherapy in Dubai
✓  Professional Sports Physiotherapy from DHA-Licensed Physios
✓ Accurate diagnosis of Sports Injuries at our Physiotherapy Dubai Centre
✓ A Wide Range of Therapies, Rehabilitation and Manual Treatments
✓ Personalised Physiotherapy Plans to Return you to Sport
Are you suffering from a sports injury? Whether you have recently injured yourself through activity or you have long-term issues resulting from fractures and strains, our team of highly experienced physiotherapists work to restore you to full health, from tennis elbow to groin strain. Our team have a wealth of experience from working with professional sports teams and athletes around the world that they apply with their sports injury patients at Anatomy Rehab.
Personalised Sports Physiotherapy Tailored to Your Recovery
Our knowledgeable and highly qualified team of sports physiotherapists have the experience to provide professional, high-quality care to patients in Dubai with sporting injuries. We understand the need to get back on your feet and you get back to training, whether you are a professional athlete or exercise for fitness. Our team utilise a wealth of knowledge in various rehabilitation techniques and physio practices to tailor a treatment plan that suits your injury and capability, helping you recover from a wide range of injuries.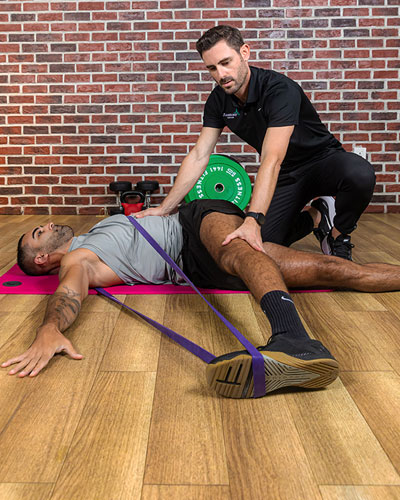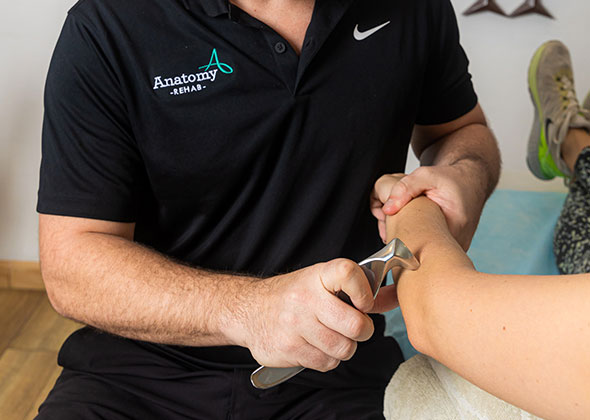 Our services for sporting injuries at our physiotherapy Dubai clinic cover many of the common problems that can occur from sports, including:
Shoulder Impingement and dislocations
Elbow injuries
Runners Knee
Pre and Post ACL reconstruction
Ankle sprains
Tennis elbow
Groin strain and injury
Muscle tears
Ligament rupture
Stress fractures
Concussion
Back pain
Tendinitis
Post-surgical rehabilitation
Our treatments are chosen to maximise effectiveness in helping our patients achieve their goals and recover faster. We utilise a range of different techniques in combination, tailored to your specific injury and recovery stage. By taking a personalised approach, we can offer an excellent standard of care through a plan with achievable milestones to improve your health and enhance your well-being. We are here to get you back on your feet and doing the sports you love, using medically researched methods to accomplish that goal.
Rehabilitation is a vital part of recovery from many sports injuries alongside manual therapy techniques. By working with our DHA-licensed physio team, you can quickly strengthen muscles, improve flexibility, and minimise the risk of re-injury. Our personal plans are designed with longevity in mind, treating your current injury while providing you with the tools and knowledge to keep you pain and injury free in the future.
Book an appointment now or call us to discuss a treatment plan.
Mutli-Treatment Approach for Sports Injuries
At Anatomy Rehab Dubai, physiotherapy treatments for sporting injuries cover multiple different techniques and practices to build strength and improve recovery. If you are suffering from an injury that requires a longer recovery, or attempting to regain strength following surgery, our expert physiotherapists tailor your plan to suit your needs and and specific sporting level.
The techniques we use for sports injury physio include:
Manual Therapy and Dry Needling
Manual therapy covers wide range of techniques including; sports massage techniques, joint manipulations, mobilisation techniques, dry-needling and stretching. Dry needling is a technique used by our sports physiotherapists to improve tissue mobility, reduce pain and treat trigger points. Stimulating the needles with an electric current can also be a great treatment for back pain, piriformis pain and sciatica.
Cryotherapy and The Game Ready Recovery System
Cryotherapy involves the use of ice for therapeutic treatment to reduce inflammation and swelling. Our trained physios utilise both cryokinetics to reduce pain from exercising, swelling and inflammation. Our sports clinicians use the Game Ready System to enhance and speed up recovery from surgery and acute injury. This system provides great results reducing swellling, pain and inflammation and is available for use in your home.
Sports massage is an effective way to relieve stress, improve blood flow and reduce muscular soreness. Our expert physiotherapists and sports massage therapists are well-trained in sports massage for both the prevention of injuries and recovery from existing health problems.
Kinesio-taping is a unique technique where tape is applied to relieve and reduce pain and provide stability during recovery. Our team of trained specialists at our physiotherapy Dubai centre has the expertise necessary to use this technique for improving joint stability and reducing the pressure on tendons , muscles and ligaments during the recovery process.
Rehabilitation is a crucial part of recovery from almost all sports injuries and at Anatomy our team use a combined treatment approach utilising manual therapy techniques alongside sports specific rehabilitation. This approach ensures a safe and optimal return to sporting activity and minimizes your risk of re-injury.
CONTACT THE TEAM
Call the team now to book your appointment

056-409 8353
055-686 1886
info@anatomyrehab.ae
Anatomy Rehab is a well-being healthcare concept where our team of licensed professionals will use a range of skills and expertise to enhance your health and enable you to reach your full potential.