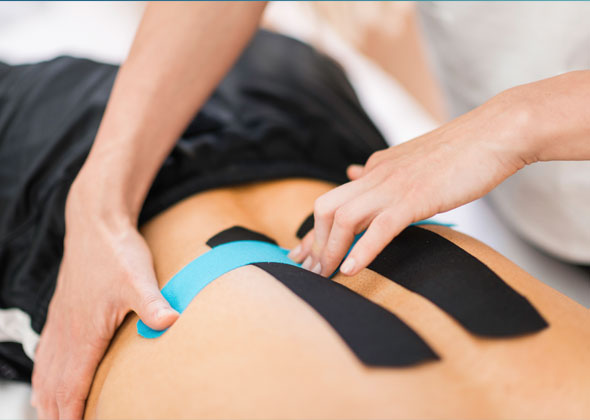 ✓ Applied by Experienced DHA-Licensed Physiotherapy Services
✓ KT Tape Application Tailored to your Specific Pain
✓ Available as a Single Service or Tailored Physio Plan
✓ Specialists in Kinesio-Taping for Sports Injuries, Sprains and
Do you have a long-term injury causing swelling, pain or instability? Our team at Anatomy Rehab have advanced training in the application of KT tape for a range of injuries and health concerns. We specialise in personalised therapy to suit your specific needs and goals, from joint instability to acute disc injuries.
Kinesio Taping to Enhance & Improve Recovery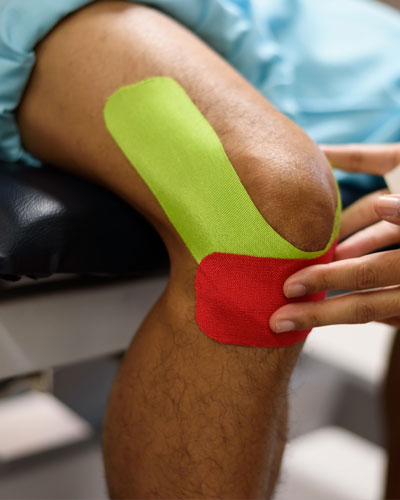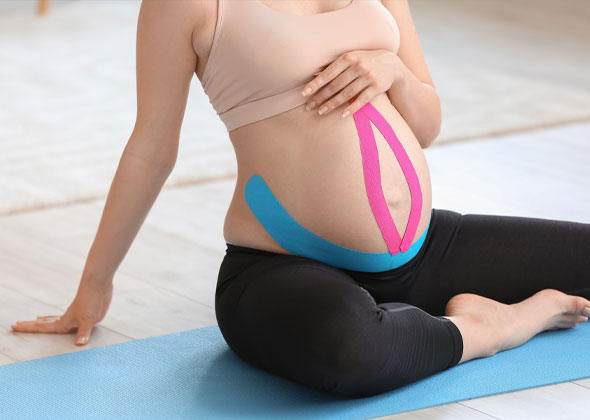 Our experienced physiotherapy team at Anatomy Rehab DXB has a wealth of experience in providing therapy for injuries and pain. KT tape is one of the most effective techniques we use to support the recovery of many of our patients alongside manual therapy and rehabilitation. As a versatile technique utilised for a range of purposes, we are able to apply Kinesio tape at our physiotherapy Dubai centre to alleviate pain, reduce swelling and combat issues such as joint instability.
We offer taping for a wide range of common health conditions and injuries, including:
Sprains
Ligament injuries
Swelling
Posture-related problems
Neck and back pain
Plantar fasciitis
Muscular injuries or weakness
Joint instability
Pregnancy pain
Top athletes and gym-goers often use Kinesio tape as a way to prevent injury and reduce risk in their day-to-day activities. However, this technique is also valuable for patients with a less active lifestyle, such as office workers with back pain or pregnant women needing extra support for their back and knees. As a versatile technique, we include Kinesio taping alongside other physiotherapy techniques for faster recovery and minimised physical activity and physio exercise risk.
Our friendly, professional physiotherapy team has the knowledge to customise your KT taping to alleviate your particular symptoms or concerns. For instance, we have the skill to apply tape to correct poor posture or overuse of certain parts of the body, helping to restore muscle balance and reduce the risk of re-injury.
KT taping is a technique that provides relief and aids recovery for many different health conditions and concerns. If you are struggling with swelling, aching and pain, then you may be a good candidate for Kinesio- taping. Our licensed experts at our physiotherapy Dubai centre will work with you to determine the best therapy and treatment in a completely personalised plan.
If you experience any of these health issues, our physios may choose to apply KT tape as part of your ongoing care and recovery:
Poor alignment or problems with your posture may cause swelling and pain. KT taping can help to reduce swelling and correct your posture, helping to normalise your movement patterns to prevent further aches and pains.
Sprains & Ligament Injuries
If you are in recovery from a sprain or ligament injury, Kinesio tape is a valuable addition to your therapy. Taping can improve your stability and assist in muscle activation and circulation to help you get back on your feet again.
Neck and back pain are common for many people, whether you are an athlete, you work behind a desk, or you are currently pregnant. KT tape offers a safe and practical way to reduce swelling and pain, helping to improve your posture and enhance your well-being.
Muscular weakness or injury can easily lead to an imbalance in how you move or walk during your recovery. KT taping provides effective support and compression to improve your gait and posture, reducing the risk of future injury.
Instability in your joints, such as your knee or ankle joints, can cause swelling and pain. Kinesio- taping provides a buffer of stability for your joints while you gain back strength and control. Our experienced physiotherapists can accurately apply tape to offer support and normalisation in your movements.
CONTACT THE TEAM
Call the team now to book your appointment

056-409 8353
055-686 1886
info@anatomyrehab.ae
Anatomy Rehab is a well-being healthcare concept where our team of licensed professionals will use a range of skills and expertise to enhance your health and enable you to reach your full potential.