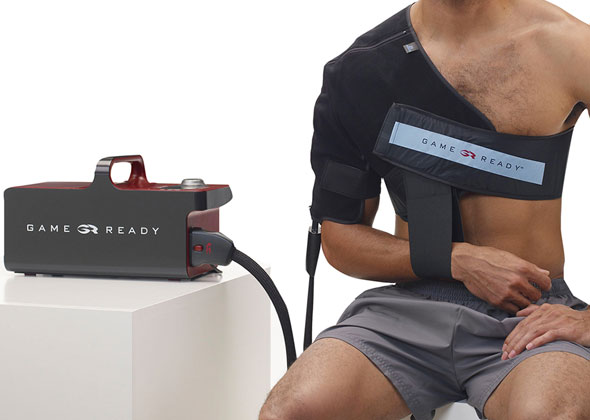 Game Ready Recovery System In Dubai
✓  Tailored Physiotherapy from DHA-Licensed Professionals
✓  Innovative Technology Designed to Improve Recovery Time
✓  Suitable for Athletes, Gym Goers and General Pain Relief
✓ Combined Compression and Cryotherapy to Decrease Swelling and Soreness
Do you need to regain your fitness following surgery, or are you struggling with a strain or injury causing pain and inflammation? Our team utilises the Game Ready system to provide relief, promote fast healing and reduce your time to full recovery.
Fast Recovery With Innovative Game Ready Technology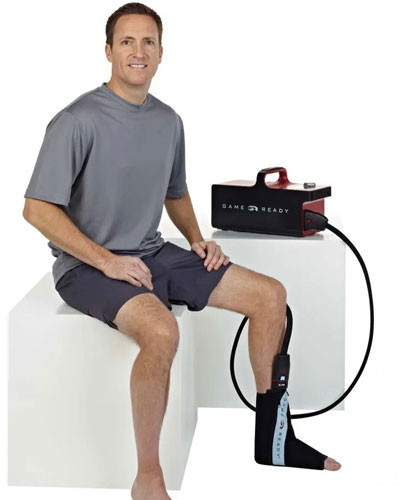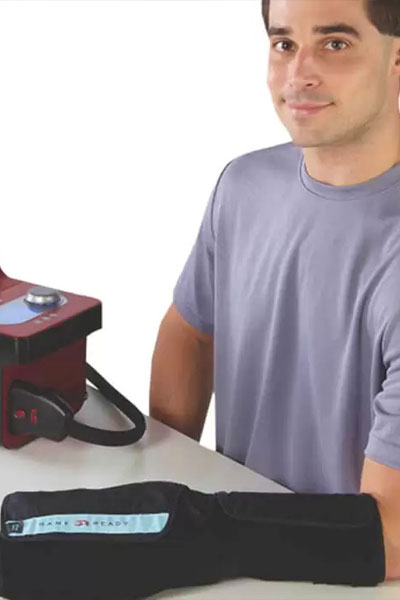 Our expert team at Anatomy Rehab has plenty of experience offering effective, alternative technology to enhance healing and restore fitness. The Game Ready system is highly-recommended additional to other services to speed up recovery time and maximise results. The system uses a combination of both cryotherapy and compression through portable technology that can be adapted to multiple areas of the body, with anatomically tailored wraps for the ideal fit.
Our experts are trained and experienced in using this unique system, and our licensed physiotherapists may advise the Game Ready system as a part of your recovery in your treatment plan. As a non-invasive treatment, our system can also be rented for use in the comfort of your own home to achieve the most optimal outcome from your physiotherapy plan, alongside exercises and other techniques provided by your trained physiotherapist.
The conditions that can be treated with this therapy include:
Post-operative recovery from shoulder, elbow, wrist, hip, knee or ankle surgery
Muscle strains and tears
Ligament sprains
Injuries to the rotator cuff
Management of swelling and inflammation
Game Ready continuously circulates ice-cold water through a hose, rapidly cooling the applied body wrap to reduce swelling, decrease muscle spasms and resolve soreness in specific areas. At the same time, pneumatic compression helps to stimulate the muscles to contract, encouraging strong blood flow and further reducing swelling in the treated area. In combination, these two techniques are highly effective for pain relief, swelling reduction and mobility, helping you to achieve your milestones for recovery faster.
What Are The Benefits Of The Game Ready System?
The Game Ready system has numerous benefits for patients who have undergone surgery or are recovering from strain and sprain injuries. Compared to compression or cold therapy alone, the combined benefits of our unique system can help reduce recovery time significantly, while improving your range of motion and reducing pain to participate in other vital physiotherapy activities. Some of these benefits include:
Combined cold therapy and compression provide pain relief from a range of injuries, helping to accelerate tissue healing without causing potential risk or damage from more strenuous movements or exercises.
A reduction in swelling and pain also results in a greater range of motion and function at the joint. Our physiotherapists combine Game Ready with a personalised treatment plan to improve your recovery and health step-by-step, working towards returning to sport and full function.
Compression helps to prevent venous and lymphatic fluid from accumulating in the injured area, returning them to circulations and speeding up your recovery while providing additional comfort for other rehabilitation activities.
The portable nature of the Game Ready system allows us to rent it out to patients, ensuring the fastest possible recovery as a home service. Using this technology alongside ongoing physiotherapy outside of our Dubai physio clinic allows you more hours in the day to work towards recovery.
CONTACT THE TEAM
Call the team now to book your appointment

056-409 8353
055-686 1886
info@anatomyrehab.ae
Anatomy Rehab is a well-being healthcare concept where our team of licensed professionals will use a range of skills and expertise to enhance your health and enable you to reach your full potential.