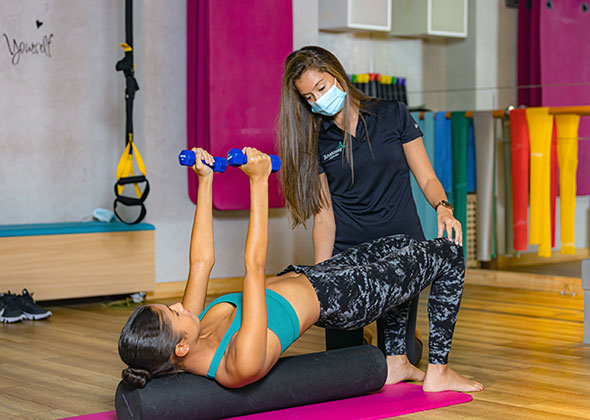 Pilates Exercise Center For Physio In Dubai
✓  Pilates Exercise Sessions Run by Trained Physiotherapy Specialists
✓  Pilates Options to Suit Your Health Goals
✓  Ideal For Recovery from Injury or Pain
✓  Improves Flexibility, Posture, and Core Strength
Are you having difficulty sleeping or struggling with back and neck pain at work? Pilates provides numerous benefits, from improving sleep to increasing flexibility and reducing pain. At Anatomy Rehab, we host different pilates classes and individual sessions to suit all ages and abilities.
Improve Your Health & Reduce Pain With Pilates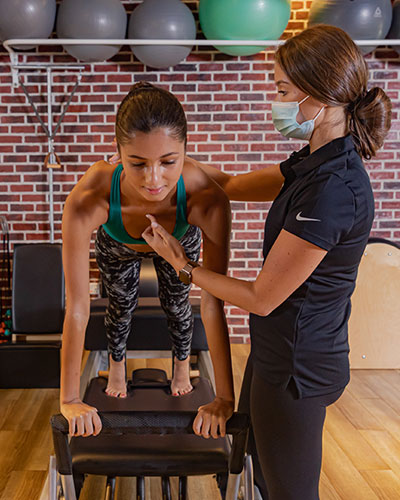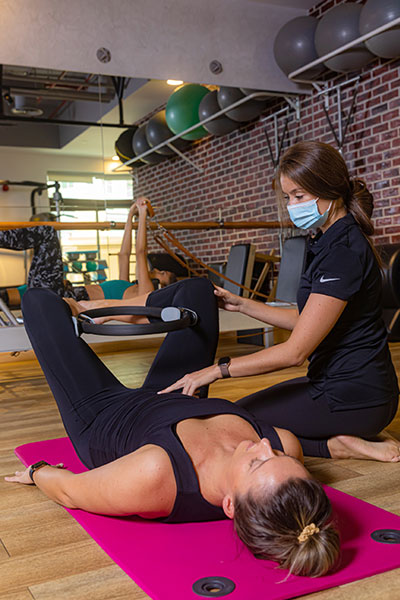 Our team at Anatomy Rehab includes qualified and experienced pilates instructors with the knowledge and skill to provide expert care to every patient. Using rhythmic, controlled movements, each pilates class helps to improve your flexibility, reduce pain and correct your posture, with long-term benefits for people of all ages and genders. Our fully-equipped pilates studio includes everything needed to work towards a better quality of life, whether you are recovering from an injury or living with chronic pain problems.
Working with our pilates trained physio team provides you with a personalised plan of treatment to improve your health and fitness. We advise controlled pilates es exercises for many of our patients to aid in recovery and achieve better health. Some of the common conditions where we may recommend pilates exercise include:
Chronic neck, shoulder and back pain
Shoulder injuries
Muscle, joint or tendon injuries
Chronic headaches
Instability in the pelvis or back
Pregnancy and post-natal care
Pelvic pain
Sports injuries
Lack of flexibility
Post-surgical recovery
Pilates is a technique that athletes and dancers use to improve their posture, strengthen muscles and increase their flexibility. These benefits are helpful for people from all walks of life, from pregnant women to people working in office jobs. As a form of low impact exercise, pilates helps improve core strength over time while alleviating pain and working towards your personal fitness goals. Our team will first assess your problems and target areas before suggesting a pilates programme or class best suited for your needs.
CONTACT THE TEAM
Call the team now to book your appointment

056-409 8353
055-686 1886
info@anatomyrehab.ae
Anatomy Rehab is a well-being healthcare concept where our team of licensed professionals will use a range of skills and expertise to enhance your health and enable you to reach your full potential.