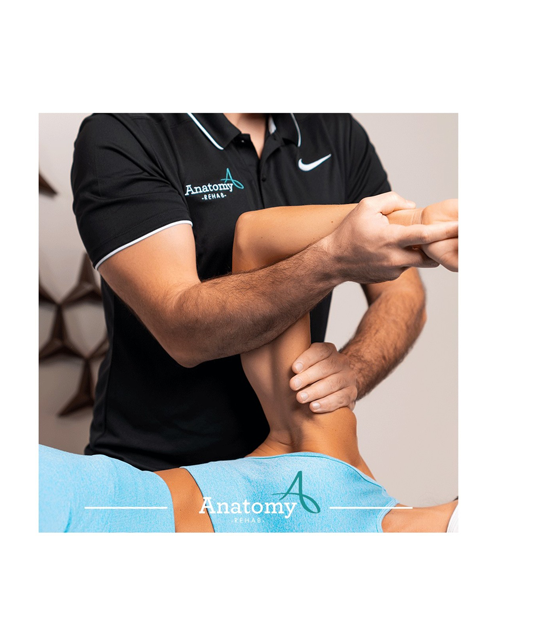 Anatomy Rehab is a well-being healthcare concept where our team of licensed professionals physiotherapist will use a range of skills and expertise to enhance your health and enable you to reach your full potential.
Anatomy Rehab is a well-being healthcare concept with musculoskeletal medicine at the forefront of all services. Our expert team of professionals physiotherapist host a range of skills and expertise to not just treat your symptoms but rectify the root cause of the problem using a holistic multi-disciplinary approach.
Anatomy Rehab was established in the UAE in 2018 with 2 clinic branches, one in DIFC and also in Palm Jumeriah. The founder's vision was to bring global medical experts to the region to provide UAE residents and nationals excellent care, delivered from state of the art clinic facilities. In 2023 Anatomy Rehab Doha was opened and continues to grow and serve the Doha and Qatar community via an internationally recognized team of medical professionals.
We at Anatomy Rehab believe that the key to excellence and success is the team around you. At Anatomy our team of international therapists are here to treat our patients to the highest standards to achieve sustainable results for our patients.
DIFC BRANCH PHYSIOTHERAPISTS
PALM BRANCH PHYSIOTHERAPISTS
Benefits of Physiotherapy in Dubai
Physiotherapy helps people recover from injuries, manage pain, and improve their physical well-being. The main benefit of physiotherapy is that it improves the quality of life for individuals seeking rehabilitation or pain management.
Rehabilitation – Physiotherapy plays a crucial role in rehabilitating individuals recovering from injuries or surgeries. It helps restore mobility, strength, and flexibility through targeted exercises and techniques. The Physiotherapists in Dubai at Anatomy Rehab are experts at creating personalized treatment plans that address each patient's specific needs.
Pain Management – Physiotherapy offers a non-invasive and drug-free approach to managing pain.Manual therapy, ultrasound, and electrical stimulation can help alleviate pain and promote healing. Our team is skilled in identifying the root cause of pain and developing treatment strategies to address it effectively.
Sports Injuries – People know Dubai for its active sports culture, and physiotherapy plays a vital role in treating and preventing sports injuries. We can help athletes recover from injuries, improve performance, and prevent future injuries through targeted exercises and training programs. Our physiotherapy clinics in Dubai have state-of-the-art facilities and equipment to cater to the needs of athletes.
Posture Correction – Poor posture can lead to musculoskeletal issues, including back pain, neck pain, and joint problems. Our Physiotherapy centres in Dubai, offer specialized programs to correct posture and improve body alignment. Physiotherapists can improve posture and prevent chronic pain by using exercises, stretches, and ergonomic advice.
Women's Health – Anatomy Rehab Physiotherapy Dubai clinics also caters to women's health concerns, such as pelvic floor dysfunction, prenatal and postnatal care, and urinary incontinence. Physiotherapists receive training to provide specialized treatments and exercises that address these issues and improve women's overall well-being.
Anatomy Rehab Physiotherapy in Dubai helps with rehab, pain management, sports injuries, posture correction, and women's health care. Our physiotherapists and facilities help people improve their physical well-being and quality of life in a supportive environment.
Anatomy Rehab Clinic
Discover a new well-being concept
At Anatomy Rehab, we introduce a revolutionary approach, where our team of experts combines various specialties to assist you in optimizing your health and reaching its fullest potential